Authentic Egyptian Liver Sandwiches (Kebda Eskandarany)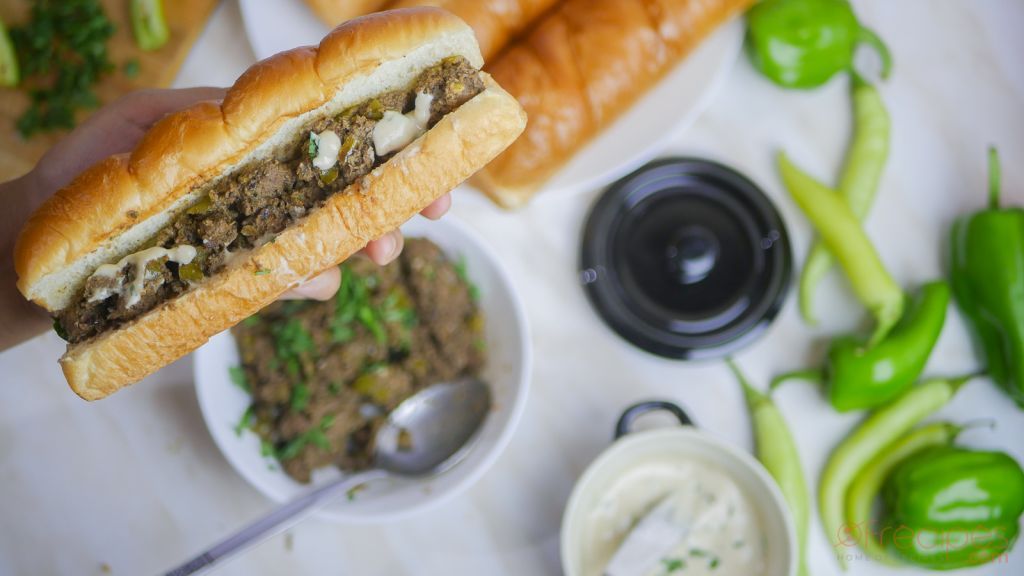 Kebda Eskandarany Sandwiches – The highly Addicting Fast Food of Egypt
Kebda Eskandarani (or Alexandrian Liver Sandwiches) are very popular all over Egypt. The recipe is so delicious and once you eat one sandwich, you won't be able to stop and will most definitely be asking for a second… and a third.
Growing up, I didn't like to eat beef liver in any form. It just didn't taste right to me, you know what I mean? Mind you, I was a tween then, and I was required to be picky. But I genuinely disliked it. Until one day my father pulled this recipe out of the bag. I have never had it before at the time, and believe me when I tell you, it was a turning point.
Picture this: My younger self sitting at the dinning table, grumpy and dreading dinner because it's "another liver dish". My mother trying to convince me to just give it a try. My father in the kitchen cooking up a storm. There was no way to sway me. The smell is incredible, but my mind keeps telling me not to trust the smell. How could it ever taste good? My father then brought a serving tray filled with sandwiches with what looks suspiciously good. Take a bite. No. Just give it a try. No. We promise it's going to be good… Okay.
The sandwich was warm and inviting and I was hungry, so the temptations were high. I took one hesitant bite, and I literally had to close my eyes to savor it. It had nothing of that "weird" liver taste. It tasted amazing! Spicy, hot and topped with a glorious tahini sauce. I never said I dislike liver again. I had a new favorite dish!
But enough about that. Today, I will no longer be selfish, and will share my father's recipe for Kebda Esakndarany with you. Let's get started.
How to Make Kebda Eskandarany?
If you don't want to see it step by step, scroll down to the end, as I have a printable version for you!
First off, you will need beef liver, obviously. You can either use it fresh or frozen then thawed.
Cut the liver into small cubes (½ in. X ½ in.)
Now, start adding the marinade ingredients. Add the minced garlic.
The dried mint.
Add the spices.
Then add the lemon juice. Mix and leave it to marinade for at least 15 minutes. You can leave it for longer, but 15 minutes are enough if you want to prepare a quick meal.
Prepare your green bell peppers and green hot peppers.
In a large skillet or pan heat your choice of vegetable oil with butter.
Add the peppers and cook until vibrant.
Add the liver mixture and mix all together.
When the liver starts to firm up, add the water, cover the pan or skillet and let it cook for 5 minutes.
Uncover and cook, stirring, until all the water evaporates, and adjust the seasoning if needed.
Plate and serve either in sandwiches with Egyptian tahini sauce or eat it as a dip with Eish balady. For salad, you can have it with Egyptian Tomato Salad (Tamatem Mekhalela), to complete your Egyptian cuisine experience.
Tips for Making the Perfect Egyptian Liver Sandwiches:
If you bought the liver fresh, freeze it for a few hours until it is harder, but not completely frozen. This will make the liver much easier to cut. If it's already frozen, thaw the liver until you can easily cut into it with a knife, but don't thaw it all the way.
The amount of hot green peppers is entirely up to you and depending on how spicy you like your food. You can omit it all together, but I suggest adding at least a quarter of one, as it adds great flavor to the dish. In my house, we like it spicy
You can choose whatever vegetable oil you prefer. I personally use olive oil, and it turns out amazing. The taste of the oil doesn't matter really in this recipe, as the flavors of the marinade are pretty dominant, so you can use any flavored or non-flavored vegetable oil.