Norwegian Oxtail Soup (Oksehalesuppe)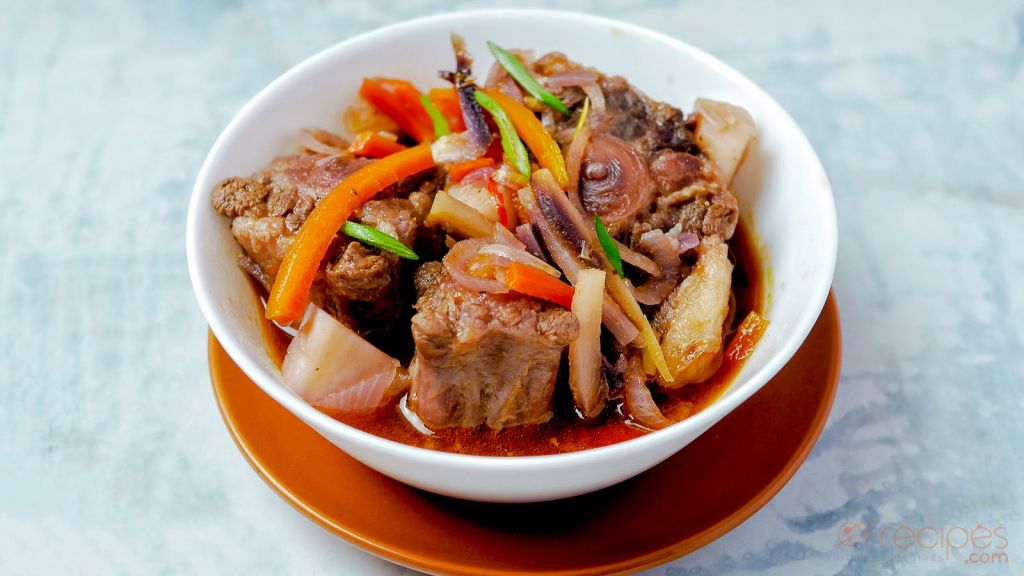 I don't know about you, but it's still pretty cold where I live. And as much as I love winter, it really gets to you after a while, you know? But the colder it gets, the more it calls for cozy nights in, soups, hot drinks, and just chilling under the covers.
Lately, I have been experimenting and trying new soup recipes to change things up. Because no matter how much I love my go-to recipes for tomato soups and lentil soups, sometimes they are just not what my mood calls for. Up until recently I have been feeling that oxtail is a challenging dish, especially since I didn't have any successful experiences making it in the kitchen. I have, of course, eaten it in broth throughout my life, but I was never the one who cooked it. I just thought it was complicated, you know? And the one time I actually tried to cook it, it didn't cook long enough and it was very hard to get the meat off of the bone, which is really the whole point.
But because of its huge nutritional value, and my love for my knees (it's very beneficial for healthy joints!), I decided to do my research, and with tips from my mother-in-law, I was able to make a very successful base for oxtail broth. It turned out to be super easy, too! There are a lot of recipes that you can play around with to create delicious dishes out of oxtail. One of which is a tajine with vegetables, and it is like heaven in your mouth! I will share the recipe for it very soon, but today I would like to share with you another recipe that will just up the basic oxtail broth recipe and will give you a delicious soup for the remaining cold nights of winter.
The recipe, as you know from the title, is a Norwegian Oxtail Soup that has parsnips and carrots with cooked oxtail in delicious soup.
Prepping the Oxtail:
The process is very simple. You will start by washing the oxtail the way you normally wash your meats. The way I personally wash all my meat is a three step process:
Wash with water and vinegar: fill a large enough bowl with filtered water and about half a cup of vinegar.

Drain then wash with salted water: again fill the same bowl with filtered water and dissolve around 2-3 Tbsps salt.

Rinse and wash with water and flour (yes, flour): fill the bowl with filtered water and dissolve 1 Tbsp white flour. The water should be milky white.
After that rinse your meat and you're ready to go! I know it may sound excessive, but this just insures that all impurities and leftover blood are removed. I know boiling and cooking the meat kills off any germs that may exist from the handling of the meat prior purchase, but I personally feel better knowing that my meat will not cook in its own impurities, especially since I'm going to feed the broth to myself and my family.
Now, to make the Norwegian Oxtail Soup:
After prepping the oxtail, brown bacon and your oxtail pieces together, then transfer to a large soup pot.
Stir in the spices, onion, half the parsnips, and celery, then cover it all with water.
Bring to a boil then lower the heat and let it cook for 2-3 hours!
By now, you have made a basic oxtail broth, Norwegian style!
The rest is just as simple.
Take out the oxtail pieces then strain the broth, discarding the remaining solids.
In a clean soup pot, add the strained delicious broth then the remaining uncooked vegetables. Simmer all for 5-10 minutes. In the meantime, you can, if you like, separate the meat from the bone and add it to the broth.
Flavor your broth with tomato puree or tomato juice, soy sauce and cayenne pepper (optional).
That's it! The printable recipe is just below!
TLDR; the Norwegian Oxtail Soup is very easy to make and very good for the health of your joints. Below is the easy recipe: