Chilean Beef Stew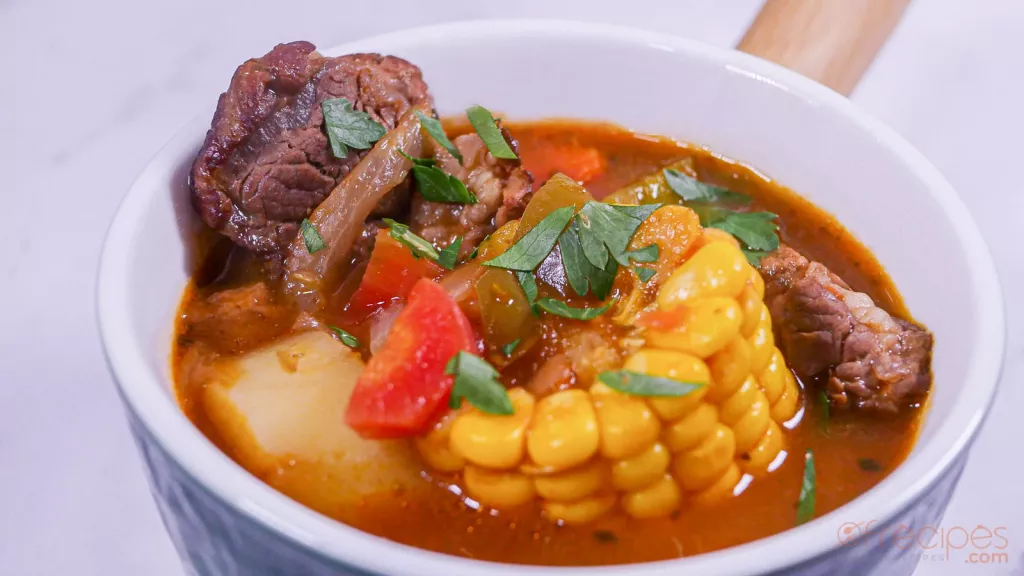 Chilean Beef Stew, or most commonly known as "Cazuela", is a beef dish that is traditionally cooked over the stove top and traditionally prepared using dried beef. Chunky, scrumptious and heavenly, this hearty and flavorful dish remains a staple in every home cooks in Chile throughout generations. Different regions have different names for this popular stew. In some regions, cornstarch is used as a thickener for the broth while in other regions; potatoes are mashed to give the sauce an added lumpy consistency. Chileans use tomatoes, tomato paste or tomato sauce to make the sauce thick and red.
Important notes about Cazuela
This recipe uses stewing cuts of beef instead of dried, but you can use pork or chicken as a substitute depending on what you would like. If you decide to use chicken meat, you need to decrease the cooking time, and use chicken broth in place of beef broth instead. Cooking beef stew takes some time to make due to the long period needed in bringing the flavors together and making the meat tender. The meat is seared in oil, and then slowly braised in onions and other ingredients in a tomato sauce-based broth. If you made too much stew, no worries! Stews always make great leftovers. Every bite of stew – each guaranteed to be packed with a rich, unique flavor – goes very well with a swig of your choice red wine.
This warm and comforting dish is best served on a cold winter's night, and best savored in the warm comfort of your home and family.
How to prepare cazuela?
The process of making this Chilean beef stew is very simple. If you want to skip ahead, I have prepared a printable Cazuela recipe just below for your convenience.
Start by dissolving cornstarch boiling water and set aside.
Sauté some sliced onions for about 5 minutes or until the onions are soft and translucent.
Add your beef chunks, searing the meat and keep on stirring until it turns brown on all sides. Season with salt and spices.
To that, add your diced squash, potatoes, carrots, bell pepper, corn on the cob and tomato sauce.
Finally, stir in cornstarch slurry and boiling water to the mixture.
Cover, and reduce the heat and let it simmer until beef is tender, approximately one to one and a half hours.
Don't forget to stir frequently!!
Adjust the seasoning and salt to your personal taste.
Ladle into soup bowls and garnish with chopped fresh cilantro just before serving.