Egyptian Molokhia Recipe (Corchorus Soup)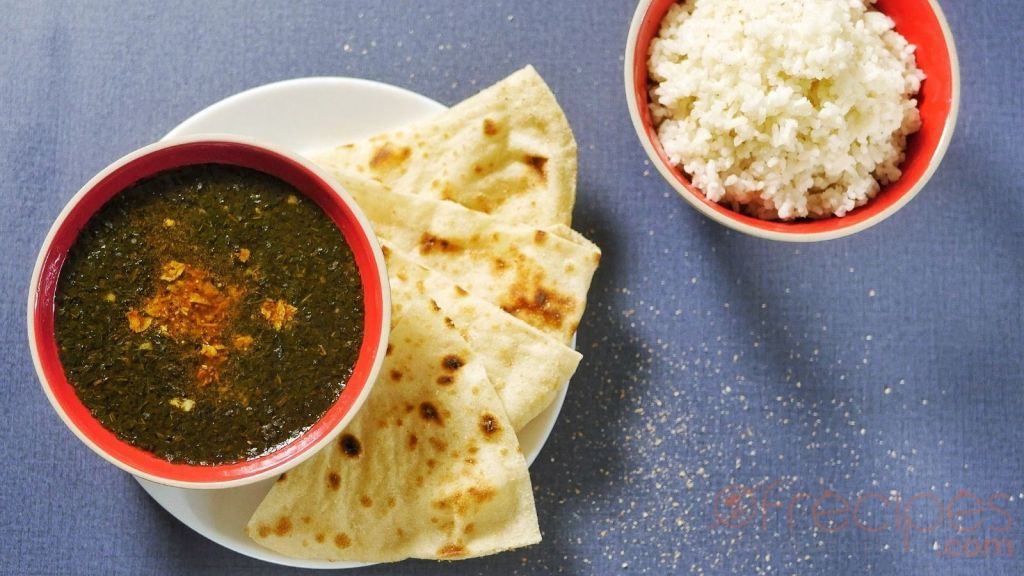 Molokhia is a stable in every Egyptian household. It's the all-time favorite dish for Egyptians. The dish has a soup-like feel to it, but it's not at all considered a soup. It's more like a sauce. It's made from Corchorus leaves and is so easy and quick to whip up in a matter of 20 minutes or less. In fact, this is the dish that all Egyptian toddlers swear by. It's their go-to favorite meal. Just use a little bit less of the garlic and drown a few tablespoons of rice in molokhya, and your toddler will be asking for seconds!
What ingredients are needed to make Molokhya?
As I said before, this is a very simple dish, and doesn't require a lot of ingredients.
All you need for a delicious, mouth-watering molokhia is Corchorus leaves, which can be either fresh or frozen, a handful of garlic (who doesn't love garlic?), some broth of any type you have available (or just plain water if it comes to it, although broth adds a great depth of flavor to the dish), some ground coriander seeds, a hint of butter, and salt and pepper. That's it!
How to make Molokhia?
First prepare the leaves if using fresh:
Remove the leaves from the stem and wash them very well then drain.
Mince the molokhia leaves in a mixer until they become very fine and gooey.
To avoid mincing too much corchorus leaves, try not mincing a lot of leaves all at once, bit by bit and measuring in between until you get 1 cup of minced corchorus. In case if you got too much of minced corchorus, then boil 3 or 4 tbsp of water and set it aside, then add the extra minced corchorus you have and mix it with the water and leave it until it cools down. You can then put it in a plastic bag and store it in your freezer until the next time you need it.
Alternatively, you can opt to use frozen minced molokhiya which you will find available in the frozen section in most supermarkets.
Preparing the molokhiya:
On medium heat, bring your broth to a boil with a little bit minced garlic and a half a tablespoon of sugar. The sugar won't be overpowering but will just add a hint of sweetness to the already sweet leaves that will just ramp up the flavor. You can skip the sugar altogether if you like.
Once our broth boils, lower the heat then add the minced Corchorus and whisk it to incorporate it into the broth.
Switch the heat off as soon as it begins to boil and set aside. (Don't let it reach a rolling boil or the Corchorus and the broth would be separated instead of combined.)
In a medium pan, melt your butter (oil or ghee).
Mix the minced garlic with the spices and add it to the heated butter. Stir until garlic's color starts fading and starts to turn golden then remove from heat. (Please don't let it burn!)
Add the garlic to the molokhya then add a scoop from the corchorus soup to the garlic pan, swirl it around, then add this mix back to the corchorus pot and stir.
How to serve Molokheya?
Molokheya is mostly served with vermicelli Egyptian rice, a nice bowl of fresh green Egyptian salad and your choice of protein. It can also be eaten with just Egyptian bread (Eish Balady), or you can just drink it straight out of the bowl!