Lebanese Znoud El Sit Recipe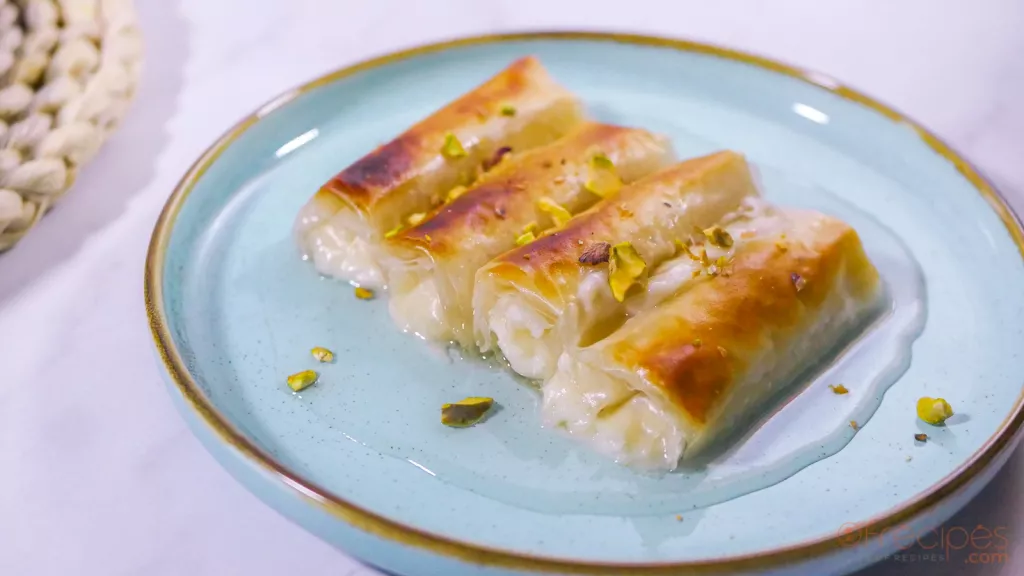 If you're in the mood for something sweet and delicious and easy to put together, look no further because I've got you covered with this delicious Znoud El Sit Recipe.
The ingredients for this are very simple and you could easily obtain from any supermarket. You could also create a larger batch of this and serve it at your next party or get together and I guarantee you that it will be an instant hit and a massive crowd pleaser.
What Is Znoud El Sit?
Znoud El Sit is among the most famous Lebanese dessert recipes and a go to for many households in Lebanon. The dish, however, didn't exactly originate from Lebanon and is actually first created in Kirkuk, Iraq, yet it's widely popular in many Arabic countries, and especially in Levantine countries.
This sweet dessert is mainly buttery phyllo pastry wrapped around decadent cream mixture and pistachios, baked in the oven until perfection, then drizzled with sweet aromatic syrup. Read along to know to create this wonderful Znoud El Sit recipe in the comfort of your home.
How To Make Znoud El Sit?
Like I said, Znoud El Sit requires simple ingredients, but mainly a roll of phyllo pastry which can be easily obtained from the freezer section in your local supermarket. Phyllo pastry is very versatile and can be used in a variety of recipes, that's why I almost always have a packet or two on hand.
The other ingredients are for making the cream that goes into the delicious rolls. These ingredients are also very simple: milk, water, cornstarch, and cream. Traditionally, rosewater is also added for flavor, but you can completely skip it if you can't find or if you're not fond of the taste.
To make Znoud El Sit you will need to thaw out your phyllo pastry first and cut it into strips.
Additionally, ahead of time, you will need to prepare your sweet syrup, so it has enough time to cool down before you have to use it. This basically means that you will mix water, sugar, and flavorings (lemon juice and rosewater) and cook until thick.
To prepare the filling cream you will mix the milk, water, and cornstarch, mixing well until the mixture comes together and reaches a thicker consistency.
Add the rosewater and continue stirring for a minute before removing off the heat and letting the mixture cool to room temperature.
Once the mixture has cooled, add the cold cream, and mix together until the mixture is well combined and creamy.
Now to roll your Znoud El Sit, there are two methods.
First method:
On your work surface, add one strip of the phyllo pastry horizontally with another on top vertically (like a plus sign).
Brush with butter or ghee.
Add one tablespoon of the cream mixture (kashta) in the center, fold the sides over the center, then the lower piece, creating a pocket. Proceed to wrap it into the top piece, creating a roll.
Repeat with all remaining pieces.
Second method:
Place the two pieces of phyllo over each other, brushing generously with butter in between, add a tablespoon of the kashta, and roll into a basic roll.
Repeat with all remaining pieces.
Now that you have all your Znoud El Sit pieces wrapped and ready (however method you've chosen), you can proceed with the following.
In a greased baking pan, line your Znoud El Sit pieces tightly together and generously brush with the remaining butter or ghee.
Bake in the oven for 12 minutes or until golden and crispy.
Take it out of the oven and set aside to cool slightly.
Once cooled, drizzle the sweet syrup on top and garnish with crushed pistachios.
If you make this recipe, make sure to share with us how it turned out for you and how you like it. I always love to hear from you and see your recipe pictures!