Fried Cheese Empanadas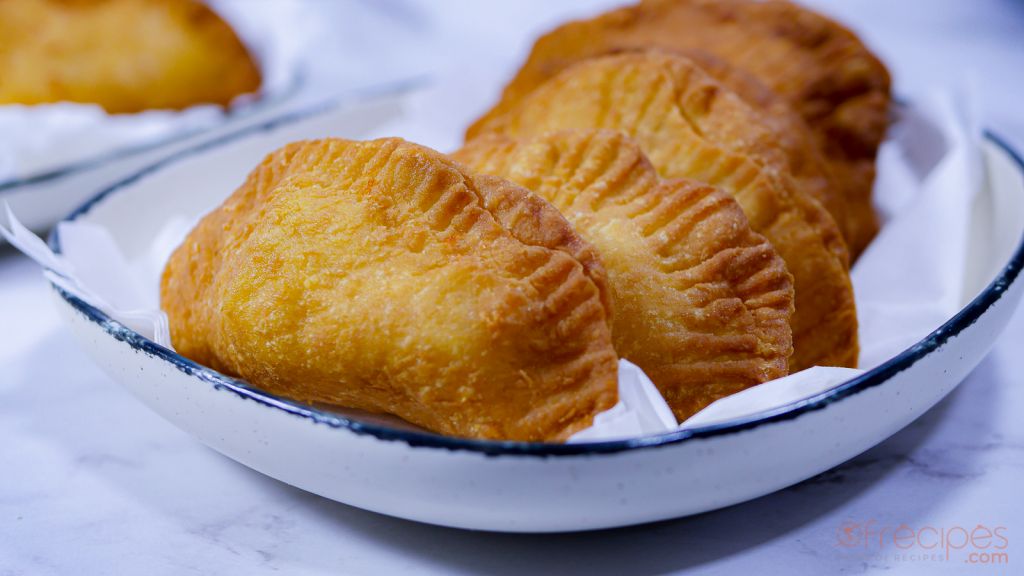 Empanadas in the Chilean Tradition
Empanadas or hand pies; either baked or fried is a special favorite in Chile and Argentina. Traditionally, they are served during the celebration of Chile's National Day every 18th of September. They are very versatile and can be made with endless fillings such as beef, pork, chicken, seafood, ham, and cheese. Other fillings include potatoes and green peas. They can be served as a full meal or as a snack, though they are also served as an appetizer or side dish in some restaurants or cafes. These little meat pies can also be filled with fruits or jams and served as a dessert to enjoy with hot cup of coffee or tea. You can stuff empanada with just about anything; the only limit is your imagination.
What Makes Cheese Empanadas So Special
In Chile and Argentina, these hand pies are quite small. And they are filled with a creamy melted mozzarella cheese and deep-fried to perfection. Fried dough filled with melted cheese is always a good idea. Of course, we all know that anything with cheese is always a crowd pleaser.
Cheese Empanadas are Perfect, Freezer Friendly Dish
The best part is you can always make a big batch and freeze for those days you have cravings for cheese pies. Place uncooked pies on a baking sheet and freeze. Once they are frozen, place in a Ziploc bag and store in the freezer until needed. Making them from scratch, fried or baked, sweet or savory, meat or vegetarian is extremely easy and it's well worth the time and effort. Indulge yourself with these delicious cheesy hand pies, they are super yummy!
How to Make Chilean Cheese Empanadas?
In a large bowl, combine all your dry ingredients.
Add softened lard gently into the flour mixture and set aside.
Meanwhile, combine milk and water into a small saucepan and heat until almost boiling.
Pour hot liquid into the flour mixture and knead gently with a wooden spoon.
Adjust the dough with flour or water as needed until it's no longer sticky.
Divide dough into 16 pieces and roll into balls. Let the dough rest for 5 minutes, covered with a clean towel.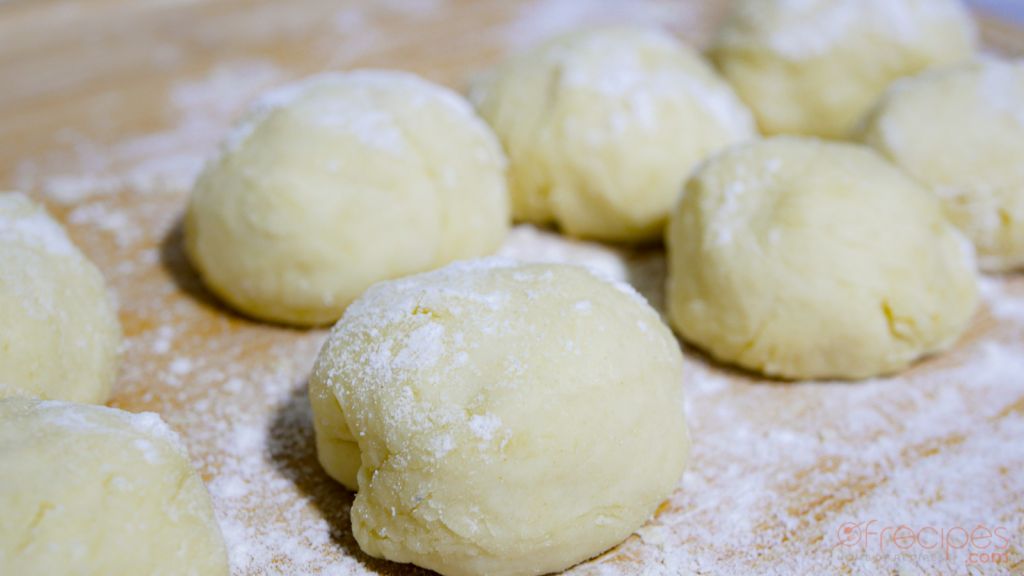 Flatten each dough ball with your hand.
Divide grated cheese into 16 parts and place each portion into the center of each dough balls.
Fold dough balls in half to form a semi-circle, pressing the edges with a fork to seal it.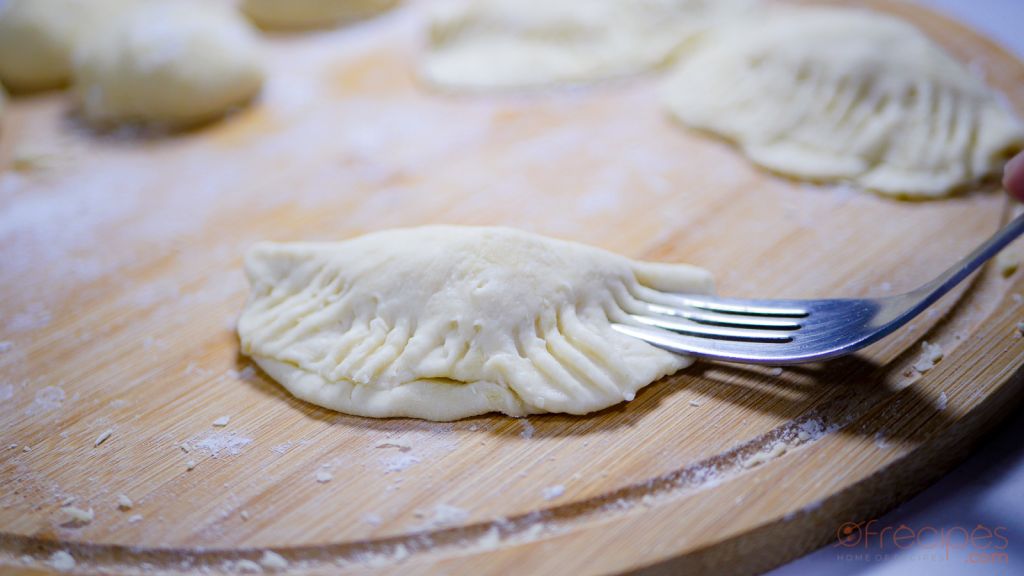 Heat enough oil in a deep fryer or wok.
Fry empanadas in small batches, turning once during cooking time until both sides are golden brown.
Drain on paper towels.
Serve empanadas warm with a cup of hot black coffee.
Notes for Making Empanadas:
You can use softened butter in place of lard.
Add a tablespoon of water if the dough is crumbly and dry. If the dough seems sticky, add a bit more flour or as needed.
To make it look neater, old dough balls in half to form a semi-circle, pressing the edges, then roll the edges inwards, crimping the edges while pressing down with a fork to seal.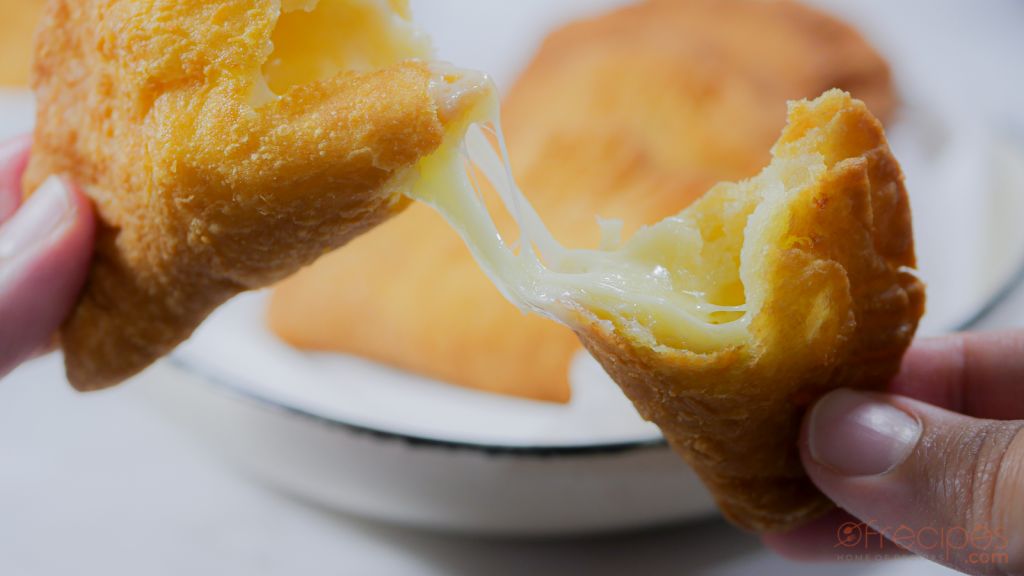 You'll find our Chilean Cheese Empanada Recipe below.